Just-In-Time (JIT) Inventory
Just-In-Time Inventory Management is about eliminating waste and gaining the most value out of your operation while enabling you to have the exact amount of materials and inventory you need, when you need it-no more and no less.
Inventory remaining in your warehouse collects dust and cost instead of revenue. In addition to lost profit from administration, financing and storage costs, inventory in your warehouse has to be insured or is exposed to risk such as fires, floods, obsolescence, and market depreciation. Raw material inventory remaining in the warehouse for a sluggish product can be a significant drag in markets that demand fast product changes.
Competitive markets reward fluid operations, responsive to costs and opportunities, requiring assets that produce revenue. A fluid, responsive operation enables you to move product quickly, based on demand with purchase orders in step with inventory movement. The end result, faster movement of accurate quantities of inventory, responsiveness to your markets, and increased revenue.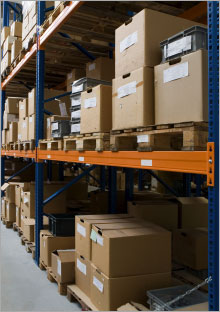 Witco Inc. Just-In-Time Inventory Management system can play a key role in product flow by reducing delivery issues and helping to reduce overall costs. Witco Inc. provides a variety of Just-In-Time services based on our customers' needs. We maintain a dock to stock managed program and can deliver product at your request on a daily, weekly, or monthly interval. In addition, we can provide bar code labeling and a variety of packaging including custom reusable containers to lower costs and reduce waste.