2011 Starts with a Bang
2011 started with a BANG for Witco Inc. as we invested over $500,000 into new CNC equipment.  For several months, Witco has been bringing on new employees (12 in the last 12 months) and even added a second shift to aid in our capacity and throughput.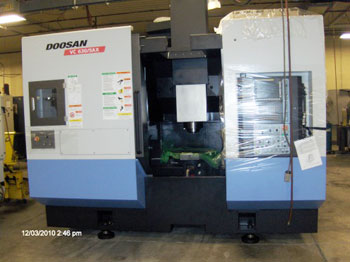 The new equipment includes:
Doosan VC630-4AX (5-axis CNC Vertical Mill)
Samsung SL 25ASY (Mill-Turn CNC Lathe)
Samsung 6TL (Barfeed CNC Lathe)
These machines are proof that Witco Inc. continues to invest in new equipment and the latest technologies.  The addition of these new CNC machines and knowledge of experienced and new employees is positioning Witco Inc. to grow not only in 2011, but for years to come.