GO BLUE!
Every two years the University of Michigan Solar Car Team designs and builds a vehicle to compete in the American Solar Challenge and the World Solar Challenge.  These two events are road races that encompass thousands of miles of public roads across the United States, Canada, and Australia.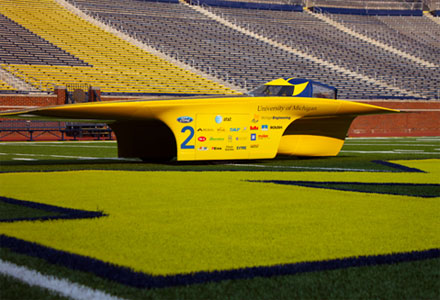 The University of Michigan team is considered one of the top teams in the United States.  They are winners of six American Solar Challenges including the last three.  The U of M Team has also placed 3rd in the World Solar Challenge on four different occasions.
Pictured is the 11th and latest generation of solar vehicle developed by the U of M Team.  This latest version is named Quantum and is expected to exceed 100 mph.
Witco Inc. is a proud donator to this million dollar project.  In May, Witco manufactured five different components that were needed to complete the assembly of the Quantum.  This is the second time that Witco has donated time and material to help the University of Michigan Team.  The first time was in 2005 and that vehicle brought home a National Championship.  Hopefully, history will repeat.